From Interstate 78

Travel East/West to Exit 36. The exit is marked as County Road 651, Basking Ridge. If you've exited from 78 East, turn Left at the light onto King George Road. If you've exited from 78 West, turn Right onto King George Road. (You'll be heading north.)
Continue 1.1 miles north on King George Road to the third traffic light where you'll turn Right onto County Road 512 East, also known as Valley Road.
Continue along Valley Road for approximately 2.1 miles.
At the first traffic light, turn Left onto Main Avenue.
Continue along Main Avenue for approximately 1/2 mile. (When you cross over the railroad tracks, the street name changes to Central Avenue.)
The Church driveway will be on your left.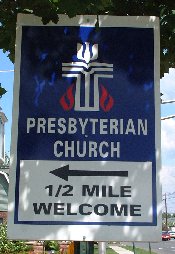 From Interstate 287

Travel North/South to Exit 30A. The exit is marked as N. Maple Ave, Basking Ridge. Either way, you'll bear right onto North Maple Avenue.
Continue along North Maple Avenue. After about 1.6 miles, you'll need to bear left in order to continue onto South Maple Avenue. Stay on this road for another 2.6 miles. (When you see the signs for Morris County, the name of the road has changed again to Basking Ridge Road.)
At the top of the hill, there will be a blinking light and a stop sign (a five-way stop).
Bear Left onto Long Hill Road.
Continue along Long Hill Road for approximately 1 mile to the next stop sign.
Turn Right onto Central Avenue.
In just a short 3/10ths of a mile, the Church driveway will be on your Right, just one block from Central School.


From the Train
We're on the New Jersey Transit's M&E - Gladstone Branch at the Stirling Station.
When you get off the train, go uphill on Central Avenue for one and a half blocks. The Church will be on the left-hand side of the road.