The Rev. Barbara Aspinall


Pastor's Message
Written by Barbara F. Aspinall - January 2021

Dear Friends,
"For everything there is a season, and a time for every matter under heaven: a time to be born, and a time to die; a time to plant, and a time to pluck up what is planted; a time to kill, and a time to heal; a time to break down, and a time to build up; a time to weep, and a time to laugh; a time to mourn, and a time to dance; a time to throw away stones, and a time to gather stones together; a time to embrace, and a time to refrain from embracing; a time to seek, and a time to lose; a time to keep, and a time to throw away; a time to tear, and a time to sew; a time to keep silence, and a time to speak; a time to love, and a time to hate; a time for war, and a time for peace." -- Ecclesiastes 3:1-8

I know that the beginning of a new year is often an opportunity to make resolutions – to be kinder, more patient, get more exercise and eat more healthily. But it seems to me that over this past year, we have had to have more than enough resolution in order to keep wearing the masks, keep our distance, not see friends or family, stay at home. I'm pretty much over the whole idea of resolutions for the moment. Perhaps this new year, a more interesting option would be to intentionally take stock and consider how we have used our time in the past, and how we would like to use time in the coming year, to think about intentionally lining up how we spend time with what matters most to us.

The words of Ecclesiastes 3 offer a wonderful model by which to measure all that has been and all that we hope to be and all that we hope for the world to be. We can consider birthing and dying, planting,and harvesting. We can think about what needs to be 'killed' – perhaps within us or in our daily habits or routines, and which relationships are in need of healing. We can look back and measure our tears and the times we have laughed until we cried.

And so we can ask ourselves questions: What does it mean to be born to new life or to "die" with family members, among friends and neighbors, or with coworkers? What might it meant to "plant or to harvest" in the daily tasks to which we are called? How might we be more discerning about which ismost appropriate? What does it mean in a time of mourning to remember that there will be dancing again? How much would we (and those immediately around us) benefit from our remembering that there is, actually, a time to keep silent? Are there times when our words of encouragement and hope are desperately there times when our words of encouragement and hope are desperately needed? How do we understand when a "time for war" is appropriate and what does that really mean, and what does peace look like in our world now?

As we ask ourselves these questions, we get to remember that God holds us through all of our times. In fact, it is this certainty of God's unending love that allows us to explore and to wonder about important questions in the first place. So, as we pass from the long and difficult year of 2020 when so much of our lives was dictated by the pandemic, to a new year with some degree of knowledge about how to deal with thevirus, with vaccines well on the way, we have an opportunity to think more intentionally about the choices we want to make, about the kind of lives we want to live, about the kind of relationships we want to have with one another, how we want to spend our precious time, knowing that all along, God's everlasting arms surround and support us ALL the time.

Yours in Christ,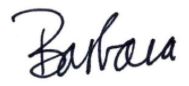 Barbara F. Aspinall



Click Here to check out our Interim Pastor's, Rev. Aspinall, monthly notes in our newsletter.